Off Far East Russia in the cold Sea of Okhotsk, lies a finger of land. This small island is known as Sakhalin Island.
Sahkalin Island overhead. Photo: JC Smith
Only 600 km long by 100 km wide, it exists on the same latitude as Alaska's Aleutian Islands and is the summer feeding grounds of the Western Grey Whale population (WGW); a population once thought to be extinct. Now with increasing numbers of around 218 (2014) individuals, the population is listed as critically endangered by the International Union for Conservation of Nature (IUNC).
WGW through the lens of a theodolite instrument. Photo: JC Smith
Sea of Okhotsk. Photo: JC Smith
The Sea of Okhotsk is the ninth largest body of water and one of the most productive seas. Enormous amounts of salmon, flatfish, crab, shrimp and krill accumulate near-shore every summer. The WGW feed on the abundant krill after their long migration from their winter breeding grounds and migratory corridors that are thought to be off Southern China. The WGW population is distinct from the Eastern Grey Whale (EWE) population as the EWE has recovered from the whaling days enough so to be delisted from the Endangered Species list.
Copepods aka gray whale food. Photo: JC Smith
In combination with the EGW feeding area, Sakhalin is well known for their oil and gas reserves offshore. There are two maintained platform rigs located 14km and 16km off the shoreline and numerous seismic surveys take place throughout the summer months by major oil investment companies, both local and international. Researchers (including the author) come to Sakhalin Island to monitor the grey whale population from both land and water based platforms. Since 1996 the Sakhalin Energy Investment Company have undertaken yearly studies including theodolite tracking for energetics and behavioral and acoustic monitoring during seismic operations.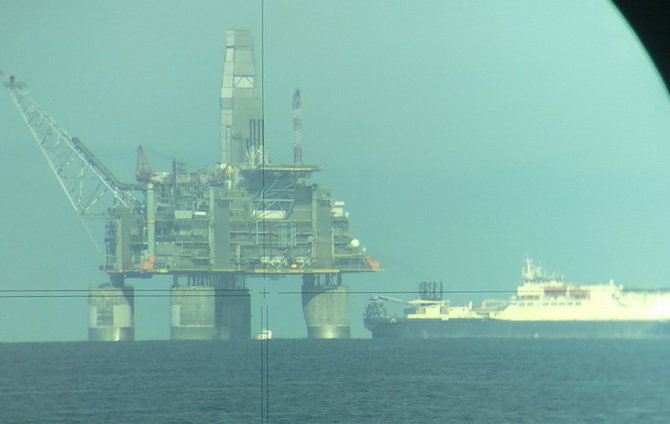 Oil platform rig and seismic vessel off the coast of Sahkalin Island. Photo: JC Smith
However mother nature does not make it so easy to do so. The extreme changes in weather seem to take place every few days - one day you are reaching for your sun screen and mozzie spray while other days you are layering long johns and pulling out hand warmers. During the last week we had six straight days of unmovable fog. It cleared in time to see zero grey whales passing by.
Theodolite station platform on the beach. Photo: JC Smith
On the days when the weather cooperates, you can see the grey whale's barnacle encrusted heads, pectoral fins and fluke tips sticking out as they roll in the surf, just yards from the sandy beaches. You might even see killer whales passing silently close to shore on the hunt for harbor seals. Behind our station reindeer, fox and even bear may be slipping past unnoticed. That is what makes Sakhalin Island such a special place; never knowing what may emerge from the depths of the environment or what weather may blow in.
With thanks to Christy Harrington for her contributions to this blog note.
JC Smith